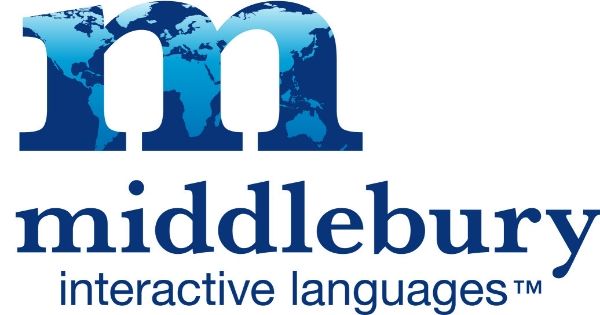 Around here, we start learning a non-English language early: Latin starts when the kids turn five. There are so many benefits to learning a foreign language early, and I wanted the kids to know a spoken language in addition to the one we start when they are old enough for school. Our crazy schedule didn't allow for actual on-site language classes, so I started researching on-line classes. When I was

offered a semester free of Spanish from

Middle Interactive Languages
in exchange for an honest review on this blog, I didn't hesitate to say "YES!"
Middlebury Interactive Languages offer an immersive approach to language learning. You may be wondering what that means, especially since I am not traveling outside of my house to learn study. It means that whenever possible, the program will be using the language to teach you words, phrases, and concepts. They will present to you the entire conversation between two
people, even if you are just learning the greetings. This way the learning is done within the proper context, making it more meaningful and easier to remember.
Their curriculum meets many educational standards and was designed by advanced language experts. Their use of technology for the
courses allows for flexibility from the learner, something that I appreciate very much during our busy school year.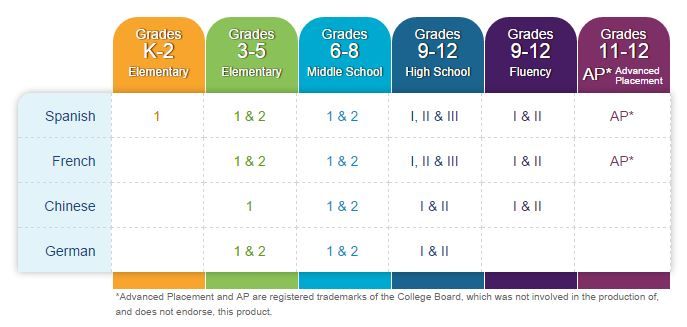 I chose Middle School Spanish 1 for James who is in grade 7. Spanish is offered at various levels for students in grades K to 12. In addition to Spanish,
they offer French, Chinese, and German for students in grades 3 to 12. Arabic is offered as a summer on-site option.
I studied Spanish for about seven years before college and I find it very helpful in today's society. I wanted James to have a language
that there would be a good chance for him to use without having to travel far away.
The program is not a download that you keep on your computer. It is a site that you log onto using a user name and password. After logging on, a home page calendar makes it very easy to track your progress and see what lesson comes next. Lessons consist of several activities such as reading, writing, speaking, and listening. You student might match words with their English meanings in one section, and be recording conversation segments in the next. An option to
print out vocabulary sheets is available in some lessons.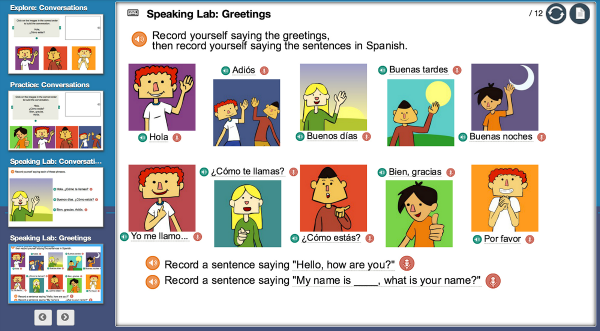 This screen shot is from a different level than the middle school level James completed. James' program used photographs of people and all the videos were of non-animated situations.
This self-paced program took us about 25 to 30 minutes per lesson to complete. The semester-long course is considered about 90 days worth of lessons. Middlebury recommends completing a lesson a day for 18 weeks. That didn't work well for us because some days we used as review days and studied our vocabulary sheets. On average we complete about three lessons a week. Since the program is so flexible, this was no problem at all. As the learner, you set the pace for your learning. You have six months (one semester) to complete the course, and I wouldn't recommend doing less than three per week. It was hard for James to get "back into the groove" when we had weeks with less Spanish. And language learning isn't really the subject that you can "double up on" later to catch up. It needs to be studied and absorbed consistently.
There are two options for Middle School Spanish 1: without the teacher for $119 per semester, and an additional $175 per semester with the teacher option ($294 total). We were offered the no-teacher option and found that it more than fulfilled our expectations. The site is easy to navigate and we had no problem completing the lessons successfully. James was challenged especially in the writing and speaking sections. He tried hard to mimic the speaker (you record your voice so you can hear it back-to-back with a native speaker).
With the writing sections, accents mattered! Mess up the accent and your score is lowered.
I have some Spanish experience, but if I hadn't, or if we were trying a different language through Middlebury Interactive Languages, I would have definitely wanted the "Teacher Option." According to the website, the teacher option operates very much like an actual classroom setting, with the teacher offering on-going support and encouragement for the student. Even with the current course James is taking, it would have been nice to have someone else help with the pronunciation aspect. Also, if
you want to receive credit for your Middlebury Interactive Language Course (another great option from the company), you MUST complete the course with the Teacher Option.
Another great aspect of this course is that there are no books to buy. Sure, maybe you want that tangible item to prove that your homeschooling life contains foreign language study. I thought I wanted that as well. But I found it absolutely delightful that there were no texts or workbooks that needed to be found every time we sat down to complete a lesson. There are five kids being educated around here, and a lot of books are used and set under couch cushions or behind kitchen appliances. What works for one kid rarely works as well for another and so we just continue to collect books. Sure in the Spanish course we printed out the vocab sheets and will probably make some flashcards when the vocab gets more difficult, but the totally on-
line aspect of this course was freeing and uplifting.
I will definitely be looking to Middlebury Interactive Languages to fulfill our language needs for the future. The ease of use, engaging lessons, and flexible schedule make it a winning program for us.
Other folks on the Schoolhouse Review Crew got a chance to check out Middlebury Interactive Languages with their kids. Click the banner below to read their reviews.