Like countless children before them, my kids love to
have stories read to them. They have their modern-day favorites and their favorite timeless classics. Stories about a mischievous little rabbit and all the adventures he experiences have been around since I was a child. I loved to hear stories about Peter Rabbit as a child and was excited when Kinder Cottage Publishing offer me free copies of two stories about Peter Rabbit in exchange for a review on this blog.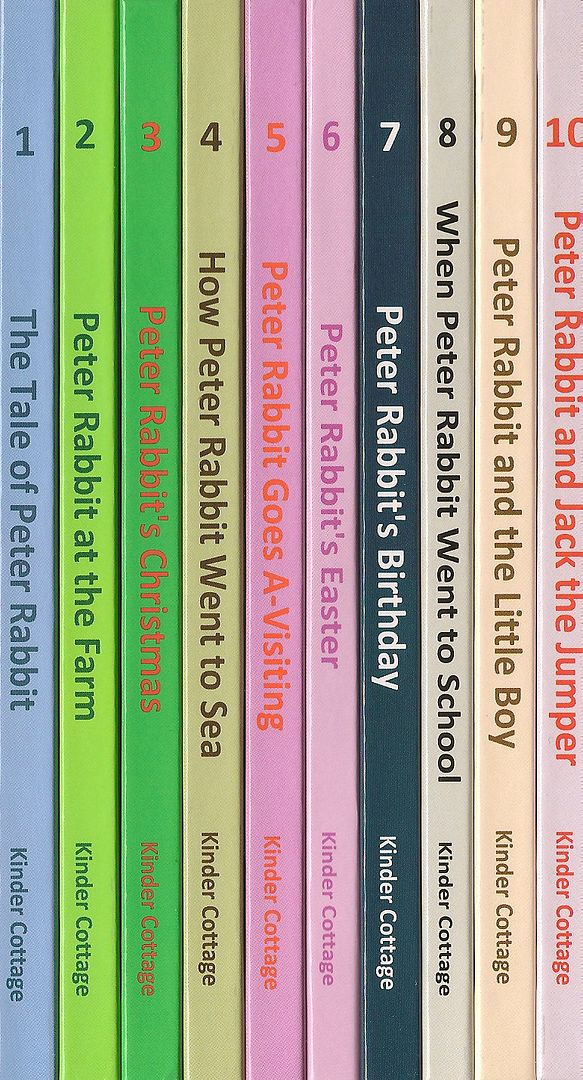 These aren't your traditional stories of Peter Rabbit. Published by Kinder Cottage here in the U.S.A., Peter still has a familiar blue coat, and fluffy tail. The two stories I received Peter Rabbit Goes A-Visiting and Peter Rabbit's Birthday (numbers 5 and 7) are small hardback editions with beautiful illustrations. Both stories are adaptations of the story originally written by the Henry Altemus Company in the early 1900s. The stories are very similar to ones you will remember and include his brothers and sisters (Flopsy, Mopsy, and Cotton-tail) as well as his lovely patient mother.
Peter Rabbit Goes A-Visiting originally published in 1921, follows a familiar path of Peter stealing out of Mr. McGregor's garden and barely making it home, getting into mischief and being sent to bed without supper. On an errand the next day for his mother, he gets distracted by a friend and proceeds to have all sorts of adventures with many different animals, all the while those at home are terribly worried he was met with some awful fate.
Peter Rabbit Goes A-Visiting is available in hardback on the Kinder Cottage Publishing Website for $4.00. It is intended for children ages 3 to 9, but truthfully can be enjoyed by all ages. Henry (age 8), Margaret (age 6), Malcolm (age 3), enjoyed this story as a family read-a-loud.
The second book I received was the hands-down favorite of the two. Something about birthdays just makes anything number 1 around here. Peter Rabbit's Birthday has the same classic illustrations, and was originally published in 1921 as well. It starts out in a familiar way, with Peter being mischievous. This time, however, he is promised a birthday party for good behavior. Peter tries very hard to stay good as his family prepares for the party, but the little rabbit is so accident prone and
has many mishaps all through the day. It all ends well, and Peter is rewarded in the end with a wonderful party with all his animal friends.
This was again read as a read-a-loud and the kids just loved the new antics and mishaps of Peter and admired the beautiful timeless illustrations. Peter Rabbit's Birthday is available on the Kinder Cottage Publishing for $4.00.
I thought the books were wonderful little extensions of the stories of Peter Rabbit that I knew as a child. I loved that some of the same themes were present, and that new adventures and characters were introduced. The small size of the books made them perfect to bring on a car trip or stick into a
carry-on bag for the airplane. And you can't beat the price! In addition to these stories, Kinder Cottage Publishing has several other stories about Peter Rabbit as well as a history biography series for elementary aged children.
Many other folks over at The Schoolhouse Review Crew got to read different stories of Peter Rabbit. You can click here to read those reviews, or click the banner below.