When I was gifted an iPad 4 last November (thanks big bro!), everyone said I should get a certain case. Since I was an iPad rookie, I followed their advice and got the case everyone said was the best. Since the day I got it, I have regretted that choice. But good iPad cases are expensive, and I needed one that would withstand the abuse of five kids and one careless mama. I didn't have the funds or the knowledge to get another one that would help my iPad survive this household. So when
Trident Case
offered

me the chance to receive their

iPad case
for free in exchange for a review on this blog, I definitely said yes!
First off, right on their website Trident Case has a video
of a guy hitting an iPad

protected in their case with a baseball bat.

You can view that video yourself here
. That's pretty impressive, and exactly the type of
coverage my iPad 4 needs. Although no one is pulling out a baseball bat around here, that kind of abuse is what I am talking about.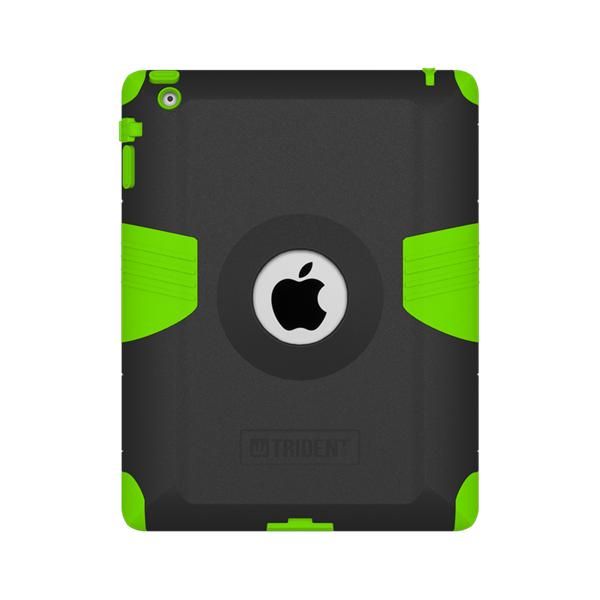 I received the Kraken A.M.S. Case for Apple iPad 2/3/4 in green and black. It easily snapped onto my iPad in under a minute. Right away I loved the slick and slim design. My old case was bulky and rubbery. This case is smooth and sturdy. The rubber covers for the volume control and the charging port are held on with thick rubber holders. My old case had thin wispy connectors and the covers broke off almost immediately. The case was a lot lighter as well and this makes huge difference when you are reading or watching a movie. It's not waterproof, just water resistant. That was completely fine by me, because if my kids even think about bringing the iPad near water they have another thing coming!
Right away I looked for screen clarity while watching a movie. Since we don't have TV access, all my shows are watched through streaming. My old case had a horrible screen. It warped almost immediately, and had a terrible
glare to it. No matter how many times I repositioned the iPad or cleaned the protective cover it never helped.
I have used this case for almost two months and the screen is crystal clear. It is almost like there is no cover on it. It gets dirty from fingers and general use, but that dirt easily wipes off with a damp cloth or mild cleaner. Once the screen cover is clean, the original clarity is
restored.
It also seems to have less glare to it. I always sit in the same light conditions at night and I have not noticed needing to shift my iPad or tilt my head to a certain position to see my shows.
Another bonus about this case is the sound. With my older case I always had to plug speakers into the headphone jack to get the sound loud enough to watch a show without headphones. I always just assumed it was the iPad. It wasn't until I received the Trident case that I realized the sound of the iPad is fine. It was the case that was faulty. The design of this great case does not mute the sound at all. And if I want to use headphones that port is so much easier to manage with
the headphone jack.
The Kraken A.M.S Trident Case for Apple IPad 2/3/4 is designed for all ages and can be purchased for $69.99 on the Trident Website. In addition to cases for iPads, the Trident Case Company offers protective cases for
other Apple products as well as Samsung, and Amazon Kindle.
Lots of other crew members over on The Schoolhouse Review Crew got to check out cases for their devices. You can read their reviews here or by clicking the banner below.