Having a philosophy professor as a husband means that we are always looking for ways for the kids to expand their learning. We strive to have them think deeper than just the surface, and to question and to keep exploring. When I was offered a product for free from Home School Adventure Co. in exchange for a review on this blog, I thought we may have stumbled upon a
real gem.
Home School Adventure Co. creates products to help parents educate and inform their child in ways that encourage intellectual growth and the development of compassion, love, and strength. So what does that mean? Well, an example is one of their products, Philosophy Adventure, teaches students in grades 6 to 12 how to question the facts they learn in history in such a way to become better readers, writers, and speakers. That's a main complaint Michael has of his freshman seminar classes. You've got these kids coming out of high school who lack basic writing skills and have no ability to speak articulately in class. Home School Adventure Co., is helping to equip these students for higher level thought and learning.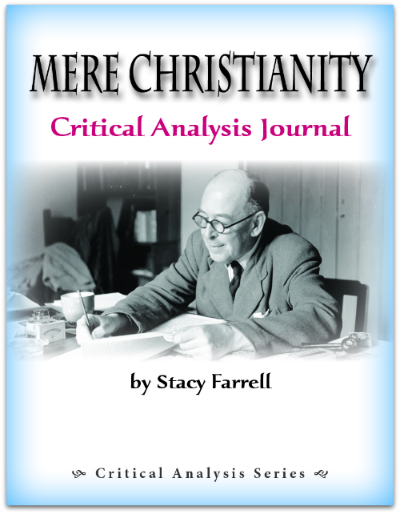 I received the Mere Christianity Critical Analysis Journal in digital format to use with James.

I sent the digital file over to a copy place to be printed and bound, but this is just a preference of mine and is not a requirement.

This book is intended to be used with C.S. Lewis' Mere Christianity, which you must buy separately. This journal promotes critical thinking using a biblical overview. I was a little confused by what was meant as a "biblical overview" and if that would mean that it was too "religious" for my tastes. Michael and I both shared this

product with James, and we didn't find that to be
an issue at all. As the title suggests, this is a Christian-based product, and I found that it was just the right amount of Christianity for us.
The text of Mere Christianity is divided into "books" and each of those books contain several chapters. The journal is set up in such a way that it can be used in a variety of ways and easily adapted to a wide range of homeschooling styles such as independent study, group discussion like in a co-op or youth group, family debate, etc. During the review period we were able to cover the preface and all of the
sections in Book 1, which was only about 40 pages in the actual text and about 20 pages in the journal.
Why so little? The product itself is designed for grades 6 to 12, and James is at the youngest end of that range. Covering about one chapter a week with the questions, 10 questions per chapter, was plenty for this soon-to-be twelve-year old. These aren't the types of questions that can be answered in one or two phrases. An example of a question in the journal would not only ask what Lewis describes as right or wrong, but also what evidence he uses to support this argument and a then to provide a common response to moral failure.
The whole point of this journal is to teach the student to be reflective and thoughtful. With questions like the example above, if your student is zipping through the material, you're missing the point. In all it would take James about 15 to 30 minutes to read the chapter during his regular school day. Then it would take him and Michael about 60 minutes, sometimes more, to go through the
questions.
I started by having James write out the answers to the questions. I quickly saw the error of my ways. So much was lost because writing such extensive answers for a sixth grader required so much work. It was much easier and a lot more valuable for him to discuss the questions orally in a
conversational format.
I tried very hard to be involved in this learning experience. I have often heard the merits of Mere Christianity and was excited to finally have a excuse to read it. I did begin to read it, but this is not the season of my life for this type of reading. I
know it may sound pathetic, but with caring for little ones, homeschooling, homemaking, and running a homeschool academy, I could not carve out the time for this simple pleasure. After the preface and chapter 1, Michael and James took on this endeavor as a father-son journey.
But that's okay. It was just one more way that Michael could be involved in the homeschooling and I promote this product as such. Father-son, mother-daughter, or any of the combination above. When the kids all get older, it might be something that I will just have the older boys do. I can totally see them all reading the text, then heading out on a backpacking trip with the journal to complete it together. Like I mentioned above, it is adaptable to any and all learning situations.
Since Michael completed the majority of the journal with James, I thought it only fair to include his thoughts on the product here:
"My 11 year old son and I did this together, and I was excited about the opportunity to revisit Mere Christianity, a book I read in college. At the same time, I was concerned that the book would be over his head given that most people encounter it in high school or later. But, the introduction to the Mere Christianity Journal does a good job of addressing such concerns: yes, some of this will be over their heads, and parents may want to skip certain sections depending on where their kids are (e.g. when he gets into the ethics of sexuality); yet, the basic argument Lewis makes is accessible to pre-teens. So, while I would probably recommend most parents save this book and journal for the teen years, an intellectually-gifted and motivated 10-12 year old would do well with this.
Mere Christianity is divided into short chapters (about 5 pages) that nicely divide up his argument into steps. Further, he uses helpful examples, and often summarizes the argument he is making.
The journal itself provides study questions that help the reader address each point Lewis makes, and this lead to good discussion between my son and myself. To me this was the most rewarding part: going over the study questions with my son led to wonderful discussions and made me confident that this activity was driving home for him what Lewis is trying to do. Given how important it is for children to be able to defend the reasonableness of Christianity in the broader secular culture, this is an important book for them."
WHAT DID MY PRODUCT TESTER THINK?
I was a little worried at first because the book was a little hard to understand and writing the answers to the questions took a long time. But it was a lot easier to understand when Papa and I started to talk about the questions instead. I am excited because we are going to continue this book and journal even though the review period is over.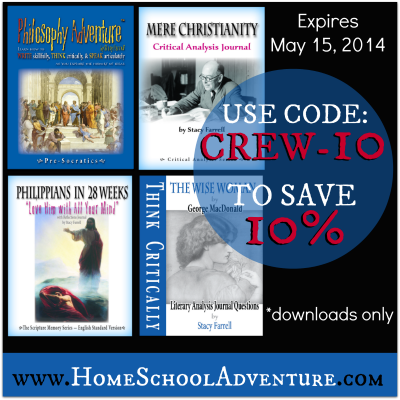 Until May 15, 2014, receive 10% off any download order by entering code: CREW-10 at checkout!
Interested in ordering but wondering what awesome product would best fit your needs? Other reviewers over at The Schoolhouse Review Crew looked at several products by Home School Adventure Co. Click here to read those reviews or click the banner below: