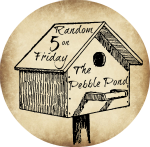 ~~ONE~~
Want to be inspired? How about a cookbook designed to teach kids how to cook pork?
~~TWO~~
Tomorrow night is the monthly dance that James goes to with all his pals. Every month is a different theme and tomorrow night is Super Heroes and Super Villains. So what is James going as, you ask?
Spock. James is going as Spock. Because that's how awesome he is.
~~FOUR~~
Did you know that April is National Poetry Month? We attended a poetry event yesterday at the Nature Reserve. It was really well done and the kids had a blast. An added bonus is that the weather was absolutely beautiful.
~~FIVE~~
Being inspired by pond life.
~~SIX~~
Sitting at the Nature Reserve made me realize what a gem of an area we live in. And how little I take advantage of places as awesome as these.
~~SEVEN~~
At the Nature Reserve other moms were discussing the summer camp possibilities and signing kids up and stuff. I am so torn about summer camps. I like the idea of my kids getting this totally unique and condensed exposure to a particular thing, but I really like having NOTHING on my schedule for large chunks of time in the summer. We are already planning a drama camp for the older two boys in July, and a shooting/archery camp for maybe all three boys in June. Right there that is two weeks of the summer. Plus, I heard about this fun reading camp that I was thinking about for Margaret. And I am sure there are some Lego adventure camps going on and there is a week-long camp all about the Percy Jackson books, which all my kids adore.
I'm so torn. What do other folks do about summer stuff?