Teaching my kids to cross the street safely is harder than you may think. This nerve-racking experience is now a bit easier with a book published by Greene Bark Press that I received for free in exchange for a review on this blog.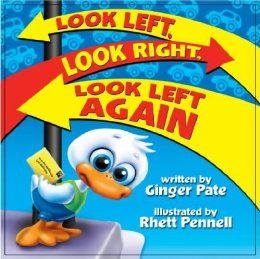 We live by a very busy street that separates our house from the library, Isaac's school, and the park and pool. Even together this street is difficult to cross. The cars go so fast, and many don't slow their speed even when they see us in the street. Another stressful factor is that my little kids will run down the block to the very edge of the curb of this street. They just don't seem to have any street safety.
When we received
Look Left, Look Right, Look Left Again
by Ginger Pate in the mail I immediately read it to the three younger kids. I loved the rhyming text and the serious, but sometimes silliness, of crossing the street safely. Although the boardbook style would make you think it is for toddlers, the message it contains is appropriate for kids of all ages.
Margaret really enjoyed the vibrant colorful pictures of the animals and the rhyming text. Henry laughed at the elephant part (actually everyone laughed!), and he wondered why Wally had to mail a card to Grandma when she lived across the street.
Although the message was lost on Malcolm, he enjoyed seeing the animals in the story and making their animal sounds. Who knew the tiger driving the train said "Neh"?
It is a sturdy book that was creatively designed. The message inside is valuable to any family with young children. This would make a wonderful stocking stuffer or gift item. I enjoyed reading it aloud. I just love rhyming text in children's books. The little rhymes made it easier for them to remember the message.
True story: I reread the book today to Margaret so her impression would be fresh for the review. When we walked down to Isaac's school to get him she sang in her sweet little sing-song voice, "Look left, look right, make sure the cars are out of sight. Remember then: Look left again."
What Did My Product Testers Think?
Do I really have to say have to say the rhyme when I cross the street or can I just look?
Look Left, Look Right, Look Left Again
is available on the
Greene Bark Press website
for $8.50. In addition to this book, the company offers many other books, games, toys, and puzzles. Check out their website for the complete listing.
Other reviewers on The Schoolhouse Review Crew got a chance to share Look Left, Look Right, Look Left Again with their families. Click here to read their reviews, or click the banner below.