Every year you hear of more and more families with children diagnosed with special needs. Treatment for these children varies and usually involves treating undesirable symptoms that occur as a result of their diagnosis. Although such treatment is indeed helpful,
Family Hope Center
believes that each child should be treated individually, and that treatment should go beyond treating the symptoms. They have created a DVD titled Understanding Child's Brain Development that I was offered for free in exchange for a review on this blog.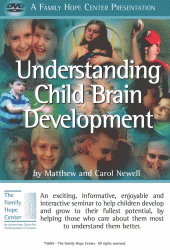 The video takes the standpoint that as parents we are the best hope for our child because we are the most invested in their livelihood. It's funny to me how I never thought about it like that before. Doctors and specialists see hundreds and sometimes thousands of children a year. Sometimes you wait 18 months to see a specialist and you are one of ten patients that day. How invested is that doctor in your child? They have probably heard and seen everything your child is experiencing before. They know a course of action to take to make things easier. Your child is part of their daily routine. But these doctors are not there in the middle of the night holding a child with seizures. Or at the park feeling heartbroken watching as your child is excluded from a game, again. The Family Hope Center educates the parents because they believe that children will progress and heal the most with you~ not with a medical team and a slew of medications.
I currently do not have any children with diagnosed special needs, but that did not diminish my interest in the video. I hold a master's degree in child development, but there was a lot of information presented on this DVD that was not covered during my graduate school education. Things such as creating a healthy environment for the brain by limiting exposure to television and even microwaved foods. Targeting toxins in the body that can limit neurological functions and digestion, and then eliminating those toxins. Steps that parents can take, some easy, some challenging, that will help the children they love beyond measure.
The video is set up as a lecture with a live audience. It is intended to be watched by adults, but could be watched by older high school or college students interested in brain development. As I watched and listened I kept thinking of ways that the information presented pertained to my life. An example is that my kids were all late walkers. James crawled for almost a year before he walked. I always knew that crawling was important for development, but I never knew the "why" or "how" of it's importance. I always knew that early childhood, especially the first 36 months of life, were critical to development. The video affirmed this for me and reminded me of many things I had previously studied but that had slipped from my "mommy brain." A final example I found reaffirming was how important "tummy time" was for babies and how this push to putting children solely on their backs with limited time on their fronts can effect development.
There is a lot of information in the DVD, but thankfully it is broken up into manageable "chunks" of information. Sometimes it would get a little technical, especially in the beginning of the video, but having the DVD divided into sections makes it easy to go back and review parts that I didn't quite get the first time around. At just over two hours in length, it was a little long for me to get through in one sitting, but it is designed for ease of use with the chapter sections. There is also a downloadable e-book that accompanies the DVD and is filled with the information presented in the video. This is helpful because sometimes the slides were difficult for me to view on my computer screen.
There are a lot more children today with developmental issues and I think it is important to think beyond treating the specific problem and look more into thinking of the child as a whole. Every parent has the right to choose what is best for their child. The treatments and information presented by The Family Hope Center may be just what your child needs. The messages provided for parents may just give you the hope you are looking for.
To order the DVD for $19.00 please call: 610-397-1737. It is also available for purchase from through the Institute for Excellence in Writing website. I encourage you to explore the Family Hope Center website to see the other products they recommend and the services they offer to families. Even though I don't have a child with special needs, I found exploring their website very empowering and encouraging.
Many other reviewers on The Schoolhouse Review Crew got a chance to watch Understanding Child Brain Development. Click here to read their reviews, or click the banner below.