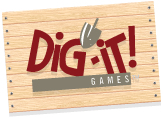 Although they are very limited in their playing time, my boys love their phone and computer games. So of course when I was offered the chance to use an educational computer game for free in exchange for an honest review on this blog I said yes knowing they would probably love it.
Dig-It! Games is dedicated to exposing kids to culture and history by creating educational games that combine entertainment and learning. They currently offer two products, Roman Town and Mayan Mysteries. I was offered the opportunity to use Mayan Mysteries with James, age 11.

Mayan Mysteries is an action-packed adventure designed for grades 5 to 9. Looters, ancient lost cities, and mystery surround your explorer as they team up with other explorers to help crack the case.
Not only will your explorer learn about Mayan culture, they will analyze artifacts, learn about the Mayan math system, and study the Mayan calendar all while solving puzzles and expanding their learning about history and social studies.
James played the free preview demo and loved it. He was so excited to start playing. Many other reviewers stated that their explorers finished the game in a day or two. This was not the case with James. Several aspects and concepts of the game were challenging to him. He has had no exposure to Mayan culture before and so although challenging, the game was very engaging and exciting for him. He would play it a few times a week for 30 to 45 minutes. Sometimes he would take a week off because of a challenging part he could not master. He was able to finish the game, and is excited about the possibility of a second part.
How the Program Works and What I Thought of It
by James the Explorer
In this program, the goal is to find the elusive criminal Ladrone. To do this, you go to different places in South America and solve puzzles. Once you solve all the puzzles in an area, you go back in time to explore the area as it was thousands of years ago. Along the way you find clues, which will eventually lead you to Ladrone!
Some of the things you do while playing the game are
1) Dig for ancient artifacts. In this activity the player will choose different tools and unearth artifacts in a virtual sandpit. I thought this part was challenging and exciting.
3) Answer questions. In this activity the player answers questions about Mayan culture. I thought this part was challenging and interesting.
5) Set dates on a Mayan calendar. In this activity the player will find out how a Mayan calendar works and what important dates were. I thought this part was challenging but rewarding.
7) Find hidden objects. In this activity the player must find certain objects hidden in distracting backgrounds before the timer runs out. I thought this part was fun.
9) Do Mayan math. In this activity the player must solve math problems, which I personally thought were explained rather vaguely.
10) Did I mention having fun?