Even after multiple handwriting programs my kids still have terrible handwriting. I am always looking for new handwriting programs thinking that maybe the next one will be the one that helps turn the scratchy-scratch into readable text. When I learned that Classical Conversations had a handwriting program that they would give me for free in exchange for a review on this blog I didn't hesitate to say yes!
When I think of Classical Conversations, I think of a national Christian-based group that meets once a week to study subjects classically. I have looked into the program for my family, but distance to the nearest group prevented me from joining. I had no idea that the materials they offered were available to the public for use in personal homeschools.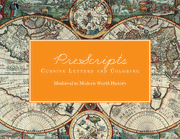 Prescripts Cursive Letters and Drawings is an introduction to cursive writing and drawing for young children (ages 3 to 7). Margaret knows how to write most of her letters, and I didn't know (and really still don't know) how I felt about introducing cursive so young, but I was willing to give it a chance and see how she did.
The book is over 100 pages and is spiral bound at the top. The pages don't adjust in orientation and so sometimes the spiral is at the bottom. This bothered Margaret at first, but she adjusted after a few days.
Each letter is introduced in capital and then lower case format. After the capital letter, a simple line drawing is presented to help the student master drawing a tree, a vase, a fish, a teepee, etc. This instruction is given in step-by-step format. After the lower-case letter a picture is given for the student to color. The pictures presented display a historical event, which I thought was pretty neat.
How We Used This Program
Margaret is five and "doing school" is still a novelty to her so it wasn't hard to incorporate this into her school day. Although the boys are on a lighter summer schedule, Margaret still enjoys completing her regular workload and was thrilled to have a 'new schoolwork' to complete. I called each letter a lesson, and we would do either the capital letter and drawing page lesson or the lower letter and coloring page lesson each day~ four days a week. So we complete about two letters a week.
Margaret at the very beginning of the book. She started it the day it arrived in the mail!
What I Thought of the Program
The program is laid out very nicely in a clean and crisp workbook and doesn't have any flashy and distracting extras. I really liked this because it really isn't necessary to have a look of color and glitz in a handwriting book. The coloring sheets are all historically-based, giving the pages a little more meaning than if there were pictures of unicorns or trucks.
I liked that each letter had a lot of practice space. Nothing is more annoying than when a book teaches a new letter and gives you space to write it only twice before moving on. Prescripts wasn't like that. Capital "D" for example offered space for Margaret to practice it 15 times, and had nine additional "D" letters for her to trace while she was practicing.
I thought the book could have had a little more introduction to pre-writing strokes. Margaret already knew how to print her letters, but even with that knowledge I think she would have done better with more slant-line, straight-line, and curve-line practice.
The book starts with "A" and moves through the letters alphabetically. At first I was bothered by this because I thought letters would be mastered better by practicing ones with similar shape together. But in the eyes of the young child, this method makes the most sense and I am not sure it really matters with cursive letters anyways. Margaret was expecting the letter "F" to be after the letter "E" and I think she did better because it was as she expected. And the intention of the book is not to master the writing of letters in cursive. It is to expose the student to cursive writing. There is a big difference there.
The introduction letters are nice and big and direct the children with numbers for how to write them. Margaret never would have been able to do this at three, but at five she had no problem.
I still don't know how I feel about the idea of teaching cursive so young. It's not that I don't think a child so young can do it, clearly Margaret did well with the Prescripts book. I guess I just wonder how useful it is to learn cursive before print. I learned cursive, but when I write I mostly write print. When I read, it's almost always in print. Margaret enjoyed the book and we will continue it throughout the summer until it is completed. I guess I won't know how it effects her handwriting for a few more years. Who knows, maybe teaching cursive first is the answer to our handwriting dilemma!
What Did My Product Tester Think?
I liked that school work because the letters had pictures and I like to draw

!
Prescripts Cursive Letter and Drawings is available at the Classical Conversations website for $11.99. In addition to this Prescripts book, they have several other ones including Cursive Sentences and Art Lessons and Cursive Words and Drawings. The Classical Conversations website also offers curriculum materials in Latin, History, and Mathematics.