It is no secret that we devour books around here. So when I was offered a free book from Science Naturally! in exchange for a review on this blog, I of course answered, "Yes! Yes! Yes!"
Science Naturally! is a company committed to increasing math and science literacy. All of their products correlate to national math and science standards. Several products have also received coveted awards, recommendations, and been recognized by magazines or parent organizations.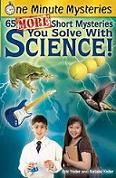 One Minute Mysteries: 65 More Short Mysteries You Solve with Science contains 70 brainteaser type activities that require math or science knowledge to solve. Written by a father-daughter team, this engaging and educational book is designed for ages 8 to 12. The stories are very short and do indeed take about a minute to read. The story is printed on the front side of the page and have the answer to the mystery, which is actually more like a brainteaser, on the opposite side.
The text is divided into sections each talking about a different theme such as plants or space. It is not necessary to read the book from front to back and kids can bounce around to the area that interests them.
Although the book says 'science' there are five bonus math stories to enjoy.
HOW WE USED THIS PRODUCT
As soon as the book arrived it was consumed by James. He enjoyed it so much and it really allowed me to see areas in which his knowledge of science was lacking or excelling. In fact he told me that stories he knew he wouldn't be able to solve, like the plant ones, he would just read to learn. Others he would sit and puzzle them out.
I tried reading a couple of the stories to the other kids, ages 7 and 9, to start a science discussion. Although they definitely had the interest, problem is that before this year their science education has been lacking, and they don't read as much as James to be able to 'pick stuff up' through literature and other means. So many of the puzzles they were unable to solve, and it became more of a guessing game. I was really surprised at many of the ideas they came up with to solve the stories. They usually weren't anywhere close to right, but they sure were creative!
I know I am going to keep this book handy for a long car or airplane trip. It will be an easy way to keep their attention in a busy airplane terminal or to hold the dreaded "Are we
there yet?" at bay.
WHAT I THOUGHT OF THE PRODUCT
This product exceeded my expectations. I loved how involved the kids could get in the mysteries. The stories were written in a perspective that really got down on their level without becoming too silly or preachy. Facts are presented so creatively that kids don't really know that they are learning while they read!
This is a product that I would feel good about gifting to another child. At only $9.95 it is a realistic option for a birthday gift. I feel I wouldn't even have to ask the mom if the child likes science. The way this book is written there is no way you can't like science while reading it.
WHAT DID MY PRODUCT TESTERS THINK
I liked this book. I thought there was very good reasoning involved in the stories.
I liked that the book had something to solve in every part.
I liked it because it had all different stories in it and you weren't just reading the same story with the same mystery the whole time.
As mentioned above, One Minute Mysteries: 65 More Short Stories You Solve With Science retails for $9.95 on the Science Naturally! website. As a special offer to my blog readers, the vendor is offering any three books from their website for only $19.95 plus $2.95 shipping. That is a savings of $12.90! Use coupon code: 3SPEC at checkout to get your savings!
So what other books does Science Naturally! offer? In addition to the book I reviewed, they offer many other science book and math mystery books of a similar format. Plenty of choices for all the different learners in your life! Click here to view their selection.
Other folks over at The Schoolhouse Review Crew got a chance to review this book as well. Click here to read their reviews or click the banner below.