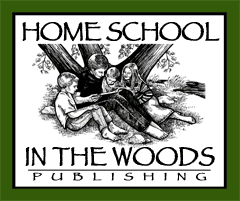 I had never heard of
Home School in the Woods
until I attended a Great Homeschool Convention in 2012. Now my homeschool curriculum is filled with products from this company! I am not joking, I currently own four different history programs from them, so when I was offered the chance to receive one of their products for free in exchange for a review on this blog, I didn't hesitate to say yes!
What makes Home School in the Woods so impressive? They have really taken the study of history to the next level by creating hands-on materials that let the student explore, create, and imagine the historical time period that they are studying. James is currently working through one of their newer programs: Project Passport: The Middle Ages. In this program he is not only reading about the Middle Ages, but he is also creating newspaper articles set in that time period, building a large castle out of sugar cubes, using a timeline and maps to record important figures and events, as well as creating a beautiful notebook of his journey that will record and preserve all that he is learning. I am so impressed with this program that I emailed the company asking when the next Project Passport will be released (Summer 2013!).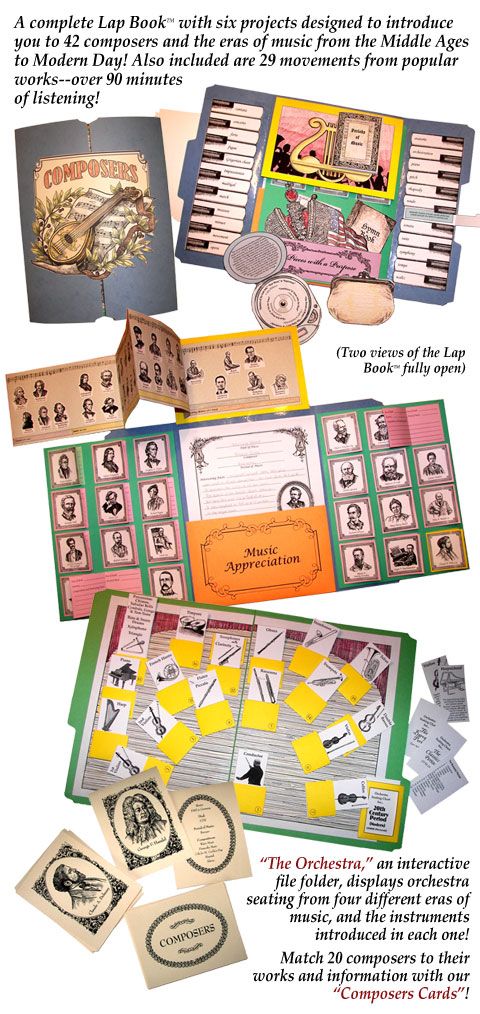 In case you can't tell, I was thrilled to receive one of their programs to use for a review. I was selected to review their Composers Hands-On History Packs. This program introduces you to different composers from the Middle Ages to Modern Times while creating a lapbook. For those of you unfamiliar with lapbooks, you are really missing out! Modifying a file folder allows your student to collect and preserve their learning. Then it all folds up and stores easily!
Designed for grades three to eight, the product comes as a download or you can receive a CD-ROM. It is necessary for you to print up the materials on cardstock or paper. This is one of the reasons that the products are so affordable. All the directions are included for printing and are easy to find and follow. This was a big one for me because I can't stand it when I have to hunt for things on a program. I have noticed that clear and easy to find directions seem to be standard for this company. I used the product successfully without any problems with Henry (grade 2), and Isaac (grade 3),and I would think that even high school-aged students could do this program since it is a research-based program.
The composer pack requires that you obtain additional books about composers or that you research them on-line. This was different from other products we've had where reading selections have been included and additional books were optional. Our library had a pretty good selection, so it was easy for us to get them. This is something to consider though, when looking into the program.
Basic art supplies are also necessary for this program, but I imagine all homeschooling families already have some scissors, glue, and coloring crayons/markers around. And of course the backbone of the lapbook is the file folder.
How We Used This Program
We completed aspects of this lapbook during our regular history time. As I mentioned above, there are step-by-step instructions for working your way through the program. We were able to complete about half the program working three to four days a week for four weeks. I think if we hadn't used the program for a review that we would have gone more slowly, but I wanted to experience a good chunk of the program before writing the review.
Since my boys were on the younger end of the age requirements, much of their learning was parent-led. That means that I sat down with them and read to them and helped them fill in aspects of the lapbook. Older kids could complete this on their own, but younger ones are going to need more guidance.
What I Thought About The Composers Lapbook
I thought this program was very thorough and creative. The lapbook the boys created is gorgeous and will make a wonderful addition to their homeschooling portfolios. I loved that the musical selections were included as MP3s. I would have liked if more background and factual information was included about classical music and the composers. It wasn't difficult to do the research on our own, but I like when a program contains every last thing we are going to need to complete it.
The program contains a lot of cutting, pasting, and gluing. Ideal for a family with kids who love to do this sort of thing. Not ideal for my boys. The novelty of making things to glue into the file folder wore off quickly. The dreaded "How much more do we have to do?" came sooner and sooner each day.
One the upside, the boys really seemed to like researching the individual composers and writing about them. They loved listening to the music and writing what it made them think of and completing it with a drawing. And they did seem to like the coloring as long as I spread it out over several sessions.
It is not even necessary to create a lapbook during this study. The program is designed to create one (and an awesome one at that!!!), but it is still a fully complete without the file folder bursting with information. The boys love looking through the lapbook, they just didn't love the actual construction of the lapbook.
What Did My Product Testers Think?
I liked it because we got to color a bunch, but I didn't really like the part with cutting and gluing. I liked learning the periods of music.
I liked it. I thought it was neat how you opened one thing and you kept opening it again.
The Composers Lapbook is available on the Home School in the Woods website for $18.95 download or $19.95 for the CD version. Home School in the Woods offers many other hands-on history products including the passport program I mentioned above, a timeline program that I own and think is amazing, 20th century in America lapbook, and many other amazing products!
Other folks over on The Schoolhouse Review crew took a look at products from Home School in the Woods for a review. Click here to check out those reviews, or click the banner below.