Over the last several years, Michael and I have been slowly making the shift to a more "classically focused" education for our boys.
Classical Academic Press
was one of the companies that we discovered that carried solid curriculum with a strong classical focus.
What originally drew me to the company were the actual books used in their programs. So many times I would come across books that were dry, colorless, and dull to teach and learn from. Classical Academic Press adds life to teaching basic subjects such as Latin, poetry, and Logic. Their books are engaging, creative, and fun to look at. All of these factors are important when you are teaching a reluctant learner.
Which brings me to my newest exposure to Classical Academic Press; their Song School Spanish program.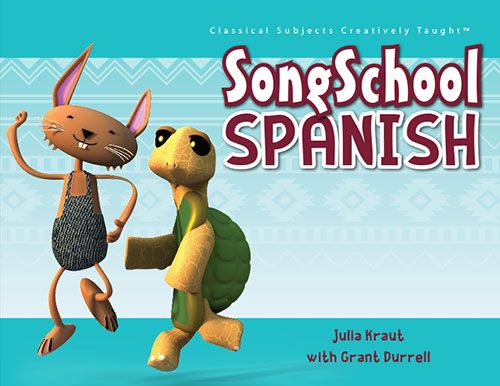 Many folks I know are familiar with Song School Latin, but few know that the same interactive approach has been created for young learners for Spanish. Song School Spanish is an easy and effective curriculum for parents to expose young learners to a foreign language. This program, intended for children from Kindergarten to Grade 3, is filled with songs, lessons and activities that offer an introduction to vocabulary, simple phrases, and even some basic grammar. The Teacher's Edition offers answers to the worktext, as well as additional activities for each of the chapters.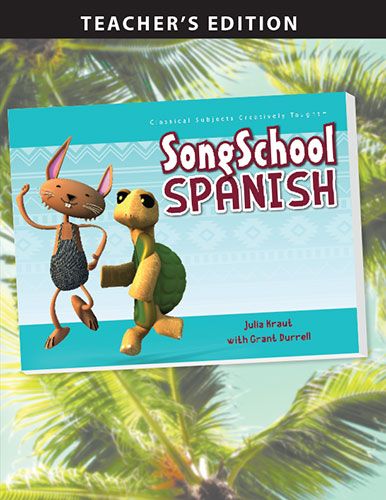 HOW WE USED THIS PROGRAM
It was pretty easy to incorporate this program into our already existing curriculum, which made me wonder why we haven't been doing a modern language study since the beginning. The CD was listened to in the car on the way to classes, co-op, and even snow tubing. We also had it in our kitchen player to rotate with our other musical selections.
In addition to listening to the CD, we "completed" activities in the student book at least once a week. Now I say "completed" because as true homeschoolers we tweaked the program to make it fit better with our needs. How we did this is by jumping around in the worktext to whatever interested Henry. We started at the beginning, but I could tell early on that I wasn't going to keep his focus. Since he is on the older end of the age recommendations, and he is a quick learner, I let him decide which chapters to study. I would skim the book and say, "Would you like to learn about manners, animals, colors, etc." and let him choose.
This didn't always work the way I intended it to go, but for the most part I was pleased with his exposure to early Spanish skills.
One thing I would say is that the CD is easily adaptable to younger and older children. Margaret, age 4, was able to pick up on the catchy tunes, and although James, grade 5/6, may not have interested in the music, he listened to it as well and perhaps even improved his pronunciation because of it.
I was hoping to ad a video here, but I swear my new computer hates me. Check back at a later time when I figure out how to get the video onto the blog!
WHAT DID MY PRODUCT TESTER THINK?
"Hey Henry, what do you think of the Spanish program we've been doing for the review program."
"Well, I think..."
"Try to use Spanish in your response."
"I can't say everything I want to say in Spanish!"
"Just say what you can."
"Muy Bweun. Ummm. Amigo. Por Faver."
"Did you like the program?"
"Yeah. It was fun."
[note: Henry's Spanish responses are written phonetically with how he said them]
Song School Spanish
is available on the
Classical Academic Press
website for $24.95. The
teacher edition
is also $24.95. In addition to this Spanish program, Classical Academic Press offers many other programs for homeschooling families. The Song School Latin program I mentioned above, as well as programs in Greek, French, Logic, Bible, and Poetry. Visit the Classical Academic Press website to view their full line of products.
Other folks on The Schoolhouse Review Crew used Song School Spanish and you can read their reviews by clicking here or by clicking the banner below:

Disclaimer: I received a free copy of this product through the Schoolhouse Review Crew in exchange for my honest review. I was not required to write a positive review nor was I compensated in any other way. All opinions I have expressed are my own or those of my family. I am disclosing this in accordance with the FTC Regulations.