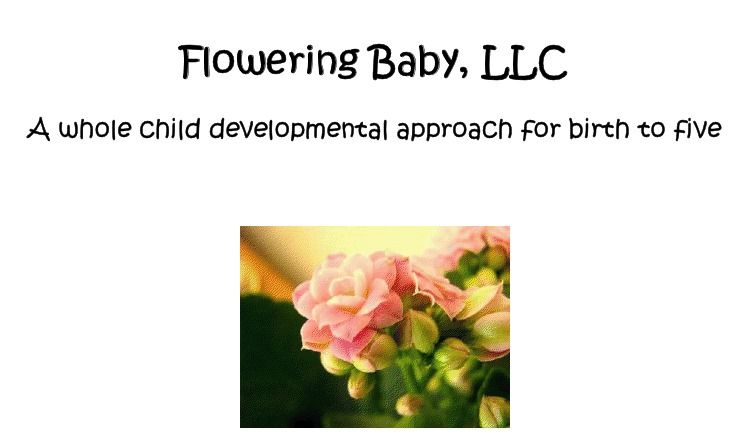 I have had a lot of littles go though this place. You'd think by now that I would have things figured out. And I think I probably do. But each kid is different and what works for Child One may not be the answer to bringing peace to the house with Child Four. Not only that, but after five kids some routines and practices just get old. Sometimes adding an extra activity or a fun project can really improve the dynamic of the whole family.
Flowering Baby, LLC is a program designed for children from birth to five. Part curriculum development and part lifestyle adventure, I found that Flowering Baby, LLC not only offered suggestions for activities with my littles ones, it also helped reshape the way I approach this precious age group.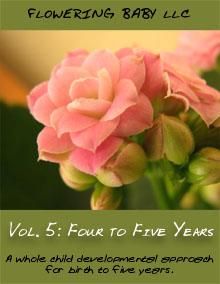 Although the program offers materials for birth to five, I used it primarily with Margaret. Lately I have felt really out of sorts with the whole Pre-K/K education she is receiving. She has her workboxes, but between dealing with Manic Malcolm and homeschooling three other grade levels, Margaret gets left out of the homeschooling day a lot. We have been faithful with the workbox system, but even the routine of that was beginning to feel like a chore. Plus, this is my fourth time with this age group in five years! Motivation was not happening for me.
Upon receiving Vol. 5: Four to Five Years, I began to get inspired again about this age level. The two parts to this part of the program map out a daily schedule of basic skill learning (letters, numbers, movement, songs, etc.) as well as thematic learning (animals, holidays, space, etc.). Used simultaneously, this program offers more learning than any of my other three kids had at this age.
Not did Margaret learn new skills and facts, her interest was aroused about the world beyond this house. So much of her life is centered around our family and community. The theme units allowed her to begin to develop interests in things on a much larger scale: "Is there a song about why stars sparkle so much?" "Did you know it looks the same outside when it is cloudy and cold and cloudy and not so cold?"
HOW WE USED THIS PROGRAM?
This program was easy to integrate into Margaret's "school" day. I made little cards with a flower and the words "Flowering Baby" on them and put them in her workboxes.
In the same box I would put any necessary materials she would need to complete the activity such as books, crayons, weather materials, etc. The Flowering Baby card would be her signal that she would need to come and get me for the activity.
From there we would follow the suggestions outlined in the guide. Since I had already previewed the daily activities to get the workboxes ready, I had everything on hand and knew what parts of the day we were going to complete. Some of the things an average day included were a book, a song, some writing, outside exploration/ discussion and some activity pertaining to the current theme we were studying.
Being veteran homeschoolers, we of course tweaked the program to meet our needs. This was also very easy and didn't take away from the meaningfulness of the program. Usually it was just something simple like an activity I knew Margie wouldn't like (ie: dressing in blue. She is going through a purple and green phase. Blue was a couple months ago).
Creating her picture using all different shades of blue.
Weather of the day. I don't know where she lives, but it hasn't been that warm in a while!
One to one correspondence.
Learning about shapes. Look how impressed Malcolm is with that triangle!
Making triangles out of pattern blocks.
WHAT DID MY PRODUCT TESTER THINK?
I like when the flower is in my workboxes because it is always something fun. Except when it is about bears. Bears will bite off your legs.
Flowering Baby, LLC is available in several different workbooks to fit your needs. You can purchase the entire five year curriculum, Birth to age 5, for $132.00. Each age level is also available to be purchased on it's own for $30.00 to 38.00. These workbooks include the suggestions for daily activities. All supplemental materials (crayons, clay, picture books, etc.) must be provided by you.
Many other families used Flowering Baby, LLC and voiced their views over at the Schoolhouse Review Crew Blog. Click here to read those reviews, or click the banner below.

Disclaimer: As a member of The Schoolhouse Review Crew, I received the products listed above free of charge in exchange for an honest review on this blog. I was not required to write a postive review. All views are my own or those of my family and I received no other compensation. I am disclosing this in accordance with the FTC regulations.