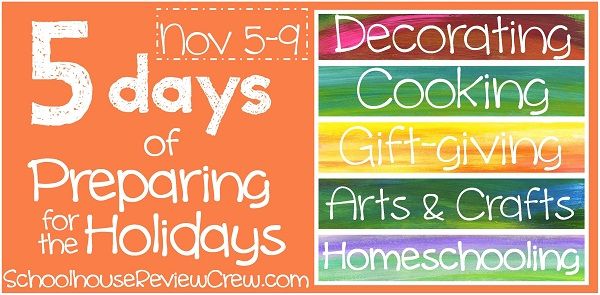 This week I am joining other bloggers over at
The Schoolhouse Review Crew
to blog about holiday planning. Come on over and join the fun! Everyone is welcome!
Gift-giving should be a fun part of the holidays. I try to keep it simple and not overspend. One of my secrets is to keep my eyes open for deals.
For example, my boys love Lego's. Lego's have found their way under tree every year for the last six years. Lego's are expensive. Especially the massive sets that they want. One of the tricks I have found for Lego's is Toys R Us' buy two get one free sale. It happens in late September and lasts one week. This is a great opportunity to get three $60 Lego sets for $120.
Another spot for good Lego deals is ebay. You have to be careful with Lego's on ebay because a lot of times those "100% complete sets" are missing vital pieces. I no longer buy used sets on ebay because of this. What I do buy are the sets that have the mini figures removed. My boys have a ton of mini-figures and lots of times they get repeats. One time I got a $90 Lego set for James for $24 because the figures were taken out. The bags were still sealed and the set was new. It was a real bargain.
For friends, we either agree to get together instead of gift exchanges, or we exchange handmade items. We eliminate or agree to limit kid-gifts to one per family. I have five kids. If all my close friends gave each of my children a gift, our house would quickly be overrun.
I don't have many other secrets or words of wonder to offer in terms of gift-giving. I usually don't "do" Black Friday but this year I might give it a try with a group of friends. We don't give elaborate or amazing gifts. We tend to stick to the useful and/or thoughtful variety. After all, it is (or at least should be) the thought that counts.
~~~~~~~~~~~~~~~~~~~~~~~~~~~~~~~~~~~~~~~~~~~~