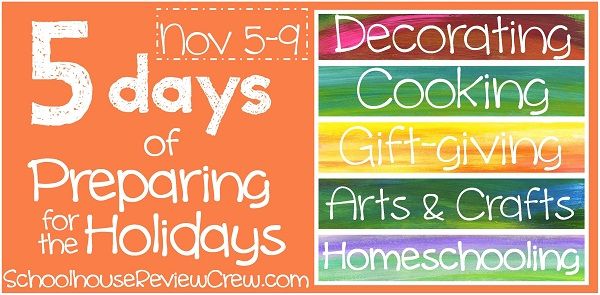 I am teaming up with the folks over at
The Schoolhouse Review Crew
to blog about the holiday. Come on over and join the fun. Everyone is welcome!
As many of you already know, I don't cook much. I mean, I can cook, I just don't do it very often. A few years ago I did make cookies and passed them around to friends. It was fun, but it wasn't my thing. Since today's topic is cooking, and I don't cook much, I am going to brag on my mom and her holiday cooking a little bit.
One of the many ways my mom shows her love is through her cooking. She may not love to cook, but she is always willing to give of her self in this way. She often will make a special favorite dish just because she knows that you like it. During the holidays she is known by those who love her for her ability to "go all out" for holiday baking and cooking.
She begins to prepare the Christmas bounty the week after Thanksgiving. The cookie baking takes several weeks and when she is finished she has not three, not seven, not ten, but twelve to sixteen different types of cookies made! With the cookies completed she creates another six or seven types of candy and whips up a few Christmas pastries and sweet cakes. And these are just the Christmas treats.
The kids are enjoying some of the Christmas goodies in 2010.
Not only does she create sweets that belong on the pages of food magazines, she also shows her love by cooking amazing feasts for Christmas Eve and Christmas Day.
Traditionally on Christmas Eve my folks would host a friends and family dinner party. People would come and eat and stay and then head off to Midnight Mass. Sometimes people would bring a dish to share, but the dinner was still 90% created by my mom. Some years only a handful of folks would come, other years there would be twenty plus people at the table.
Christmas morning would always end with a delicious and amazing brunch prepared by... you guessed it! Eggs, coffee cake, fresh squeezed orange juice, ham, and more would adorn the table. Dinner would be a smaller family affair, but would always have roast beef, mashed potatoes, gravy, green bean casserole, sweet potato casserole, and several types of pie for dessert. Sometimes there would only be six or seven of us and four or five types of pie!
Some of my fondest memories from childhood and adulthood are of having holiday meals. And even though I am not with my mom at Christmas very often, she still bakes her cookies and sends them my way. So although I am not following in her footsteps, the grand kids are still getting a little bit of Christmas food cheer!