Beloved Books is a Christian company offering positive, motivational, and wholesome literature to families. One of my family's favorite activities is reading together. Whether laying around the living room or snuggled together on the sofa, we love to explore adventures in books together. As the kids get older and we have a greater span of ages, it is getting more and more difficult to find stories that are appropriate for everyone in our family.
For these reasons I was very excited to be able to review Beloved Books' Sugar Creek Gang audio books, volume 1. These adventure stories were written in 1939 and contain all the wholesome and family values that boys and girls need, with the suspense and adventure they desire.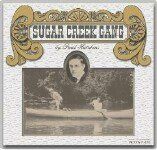 In addition to adventure, the stories contain poetry, song, nature study, science, as well as messages from the gospel. These messages are so carefully woven into the story that they essentially become the story.
HOW DID WE USE THIS PRODUCT?
We listened to these stories in the car, in the bedroom, in the living room, and in the kitchen. The reader is so good, that you would think there were several narrators, instead of just one. The boys loved these stories and I was so pleased to see them patiently waiting while each completed schoolwork so they could rush up to their bedroom together to listen. They finished the entire Volume 1 in just under a week, and I believe the other volumes will find their way here around Christmas time. I loved how "pure" the stories were; there were no inappropriate themes or words. Sometimes the story would get suspenseful and Margaret (age 4) would become frightened. For the most part she enjoyed the stories, but I would recommend them for ages seven to adult, unless you are listening to them as a family, in which case all ages would be fine.
WHAT DID MY PRODUCT TESTERS THINK?
I liked these stories because they had a bunch of adventures.
I liked those stories because they were exciting

.
I liked it because there was a boy narrator and it was from a boys prespective and because the stories seemed like they really happened a long time ago.
Other members of The Schoolhouse Review Crew got a chance to listen to the Sugar Creek Gang stories as well. Click here to check out their reviews, or click the banner below.

Disclaimer: As a member of The Schoolhouse Review Crew, I received the above named product free of charge in exchange for an honest review on this blog. I received no other compensation.