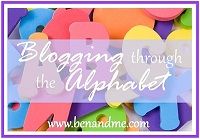 I am linking up over at
Ben & Me
as I blog my way through the alphabet. Come and join
the fun!
H is for Haircuts, which are now a week old but are still taking me by surprise every time I see the children after a significant absence. All the boys got them, but Isaac went from short to shorter and James went from long and shaggy to long, so their cuts aren't really that noticeable. It's Malcolm and Henry that got the real cuts.
Not sure that I like it yet. He just looks like such a little man now and not so much like my baby. Sigh.
Henry was also a shock to me. Henry has perfectly straight and very thick hair that is so cute when it is long:
Henry chose this haircut himself from a photo in a magazine. He loves it! I am a firm believer that kids should do what they want with their hair, even if it's not what I want. Henry's hair grows very fast and will be long again soon. I have to admit, the shorter hair is a lot easier to care for.