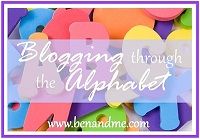 I am blogging my way through the alphabet. Head over to
Ben & Me
to see what other bloggers are going for the Letter G.
We had Michael's parents here for a long weekend. It was such a joy to be able to spend some time with them. Since we are stuck in PA with no local family, my kids never get enough grandparent time.
Who let these loonies in?
One of the best parts was the indoor pool at their hotel. We were the only ones there!