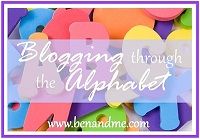 It's the kind of day where my to-do list is going to have two, maybe three, things crossed off. Sometimes that's just the way it is. So I am keeping this week's Blogging through the Alphabet to one photo that pretty much speaks for itself.
And here's a little close-up of our soccer star.
Join Marcy over at
Ben & Me
to see what other's are blogging about for the letter F.