Do you ever get tired of teaching the same subjects everyday? I know at my house we get into a routine and go strong with the schooling for a while, but then the energy we once felt begins to wane and even just getting through a simple assignment seems to take forever. I often wish that we had something to look forward to each week that didn't involve leaving the house or a ton of planning on my part.
Enter
Homeschool Legacy's Once-A-Week Unit Study
! Specially designed for the busy homeschool mom or dad, Once-A-Week Unit Studies focus on learning about God's amazing creations while instilling a love of learning in your child. The units are set up so all the teacher needs to do is make a quick trip to the library and you are ready to dive right in!
The idea behind these unit studies is that families drop their regular curriculum for one day each week to focus on the unit study curriculum. The unit study contains all the subjects normally associated with a homeschoolers day including: math, writing, science, art, and field trips!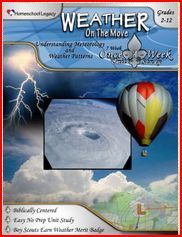 I was excited to receive a copy of Weather on the Move. It contained seven weekly lesson plans and many activities, assignments, and suggestions for further study. Some of the activities we completed included: weather tracking charts, hurricane tracking charts, weather journal, making a rain gauge, learning about clouds, and creating a terrarium.
HOW DID WE USE THIS PROGRAM?
I am sure that you are wondering how I could abandon our regular studies for one day a week in favor of this unit study. The answer is that I didn't. My boys still completed their regular assignments for all of their 5-day a week curriculum subjects. This included math, spelling, English/grammar, and writing. These few subjects were finished early and we devoted the rest of our school time to the unit study. Family read-a-louds we completed during the week before night-time prayers. In my opinion it wouldn't be a true homeschool curriculum if you couldn't tweek it easily to make it fit with your family. Weather on the Move was definitely easy to fit into our schedule on our terms.
Additional items were needed to complete the extra activities within each unit. The course comes with the lesson plans and additional reproducible items, but not materials for the experiments. I found that almost all the items required were common household items and didn't require a separate trip to the store. Perfect for the homeschool family on a budget!
I loved how the program used books that were easily found at my local library. It's not often that a science-based program can be completed so easily and with so little cost.
We didn't get to complete any of the field trips, although many of them looked great. It is just too hard for me to take all five kids without Michael along to help. We will definitely revisit the field trip listings when Michael is on a school break.
WHAT DID MY PRODUCT TESTERS THINK?
I thought it was fun because I like learning about weather. I had a hurricane named after me this year!
I thought the weather work was fun and I liked how we all got to do it together and it wasn't just one of us doing our separate work.
I liked the weather chart. I like how we can see weather... not like volcanoes or... hot air balloons.
Homeschool Legacy offers many different Once-A-Week Unit Studies subjects including: Birds, Trees, Knights, and Horses. My fellow crew members at The Old Schoolhouse Review Crew have reviewed the weather unit and nine other subject areas. Click here to read their reviews or click the banner below.

Disclaimer: As a member of The Old Schoolhouse Review Crew, I received Weather on the Move free of charge in exchange for an honest review on this blog. I received no other compensation.