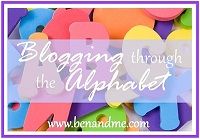 I am working my way through the alphabet with Marcy over at
Ben and Me
. You can check out my previous posts on Blogging through the Alphabet
by clicking here
.
One area that I struggle to be a good teacher is in handwriting. My children have readable handwriting, but that is really all you can say about it. Readable. In a world where technology is starting to take over all aspects of life, having good handwriting is becoming a lost art.
I strive to be a good handwriting teacher, and I use a variety of programs to see if one will just "click" with my crew. We have used A Beka, Sound Beginnings, and Handwriting Without Tears for print. They can write and it is readable.
Here are some examples:
This sloppy mess belongs to a fifth grade-aged sixth grader.
This is a beginning second grader who is still six years old.
They have the letters down and can write and it is readable. But it is not pretty. Or neat. So I thought I would teach cursive and hope their writing improves.
At first I was using Handwriting Without Tears for cursive because let's face it. That program is cheap. And when I need to buy three of everything, price matters. But after three years of HWT cursive for James, I just didn't really see any improvement. He doesn't like cursive because it takes too long. And I myself wasn't taking enough time to appreciate handwriting as it's own subject. We were just getting it done to cross it off.
All that changed this year. Handwriting, like art and math, has it's own place in our curriculum. For twenty minutes a day the boys sit down and write stuff out. Slowly and carefully so that they can master it. We switched to New American Cursive from Memoria Press. Henry and Isaac are in Level 1, James is in Level 3. Slow start for the younger boys as they learn letter formation and connections. James is already on passages and creative writing sentences. Here is a sample from last week:
Another sloppy mess. I guess being a doctor may be in his future.
What do you use for cursive?