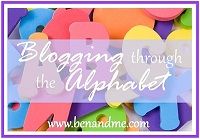 There are a lot of boys in this house. There is something really special about being the mother of a crew of boys. Something that is hard to explain and that can only be understood by... being the mother to a group of boys.
It's not so much the mothering that makes it special. It is the relationship that the boys themselves share. The very act of being brothers. That one word is so much more a verb around here than a noun. It describes not only people and a relationship, but also a behavior. A way to act, to be, and to live.
These boys are in a lifelong relationship with each other. They are sharing a childhood. They will become men together.
There is something significant about the people you grow up with. Whether you want to believe it or not, they are helping you develop into the person you are. And at this house, that relationship is even more defined because they are brothers.
I am blogging my way through the alphabet over at Ben & Me. Click here to read what other bloggers are writing about. Be sure to check out my past alphabet posts here.