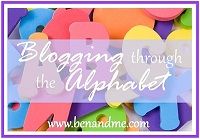 I am happy to link up with Marcy over at
Ben and Me
for a whole year of blogging through the alphabet!
This week at my house, A is definitely for attitude. We seem to have a multitude of that around here lately, both the happy and the negative kind. We already have the eye-rolling, the sighs, and the stomping of feet. But we also have the high-fives, the shrieks of joy when the baby says or does something new, and the "YES!" with the fist pump when the math bridge is finally passed.
I never know what attitude to expect, but I have found that my attitude about something influences their attitude about it.
An example is that this week we have two picnics, one field trip, and five days of soccer to get through. And that's in addition to school work. The kids are ecstatic about all the activities we are doing this week. They are ready to get going! My decision to school on Labor Day when all the neighborhood school kids are off was met with a different response:
Okay, so my theory isn't 100%. Who cares? At least one someone shares my enthusiasm about homeschooling!
Head over to Ben and Me to see what other bloggers are doing for the Letter A.