Looking for a unique way to spice up your history reading this school year? Look no further than Christian Liberty Press. For over 25 years, Christian Liberty Press has been providing top quality educational materials to homeschoolers and Christian schools.
Christian Liberty Press has many products to meet your needs. They offer affordable full preschool to 12 curriculum with a Christ-centered and Biblical viewpoint. Many states require standardized testing, and Christian Liberty Press can help you administer the C.A.T. test to your children. They even have a placement test service if you are unsure about standardized testing procedures.
In addition to curriculum and testing services, Christian Liberty Press also offers an essay writing service that has step-by-step support from the very beginning. I know from a personal standpoint that essay writing is something that I always struggle to teach effectively. I am always second-guessing myself and wishing that I have a 'second opinion' on my children's writing. This is definitely something I will look into as my children get older.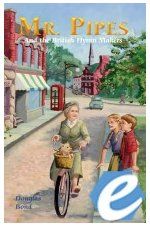 I was able to review an e-copy of Mr. Pipes and the British Hymn Makers. This text is recommended for grades 7 to 10, but James (entering sixth grade) had no problem reading it. It is the story of two teenagers who travel to England and befriend a elderly gentleman. Through this friendship they learn about famous British Hymns as well as prayer and worship.
HOW WE USED THIS BOOK
Since we are not currently studying British History, James just read this as part of his summer reading list. It was nice for him (and me!) to have a review item that we could leisurely go through and discuss. Since it was summer reading, we didn't go into greater depth in the text, although there are plenty of opportunities to study more based on the themes within. We both thought the book had a bit of a slow start, but were pleased to see it pick up and hold our interest. This is definitely a book that we are going to revisit when we study British History next year.
WHAT DID MY PRODUCT TESTER THINK?
Many other review members took at look at 'Mr. Pipes and the British Hymn Makers' as well. You can read their reviews HERE or by clicking the box below.

Disclaimer: As a member of the Schoolhouse Review Crew, I received a free e-book copy of the above named product in exchange for an honest review on my site. I received no other compensation
.