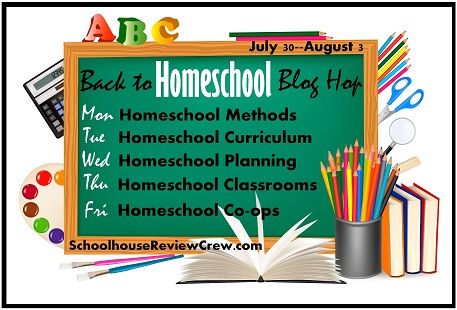 Welcome to the Back to Homeschool Blog Hop! Today's topic is Homeschool Co-ops! Be sure and check out my previous posts on Homeschool Methods, Homeschool Curriculum, Homeschool Planning, and Homeschool Classrooms.
I tend to roll my eyes when folks ask about socialization with my kids. As if the only place a kid can get "socialized" is by being institutionalized for seven hours a day, 180 days a year. Give me a break! I was a classroom teacher once and know what we all told the kids? "Quite down everyone, and save the conversations for after school."
My kids are, in fact, very busy with people their same age. Our community is very blessed to have a program called Step-Up. It's not exactly a co-op, because the moms aren't the ones teaching. The classes offered are taught by college student who are getting their teaching degree. Us moms are still involved though. After we drop the kids off we all meet to gossip and chat and drink coffee, I mean... to discuss lesson plans and homeschooling goals. It is sometimes the best hour I have all week.
In addition to Step-Up, my family is involved in other group activities. As I mentioned earlier, as the boys get older it becomes more and more important for me to gather strength and motivation from those around me and also to share in the gifts of others. As a result my kids and I are involved in a monthly recitation and book club group. During recitation the children present something to the group and answer questions. This can be anything from a memorized poem, a history report, or a piece on the piano. The book club allows them to share a common subject with other kids their own age.
As a mentioned before, I also paired up with some moms to teach science together. Once a month we get together to do experiments and study

Exploring Creation with Human Anatomy and Physiology. This helps me stay accountable since many times science just doesn't get done around here. We will rotate houses and each take a turn leading the lessons.
A more formal co-op that we have been involved in before has also been helpful in teaching subjects that we sometimes neglect. Circle of Friends has a focus on art and music. It meets twice a month for classes, lunch, and recess. Each mom teaches for three or four sessions. There are a lot more families involved in this group than in my other two co-op type groups, but it is always nice to meet new moms and their kids.
At a homeschooling conference this past Spring, Dr. Susan Wise Bauer stressed to her audience how important it is to share the load with other families. A mom (or dad) who tries to do it all will find disappointment and burnout come quickly. It is not a failure to ask for help from others. Co-ops offer a great chance to benefit from those around you. If you don't have one that meets your need, start one! Chances are there is a family who has been praying for the group you are thinking about starting.
How is your child invloved outside the house?