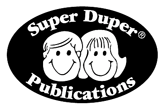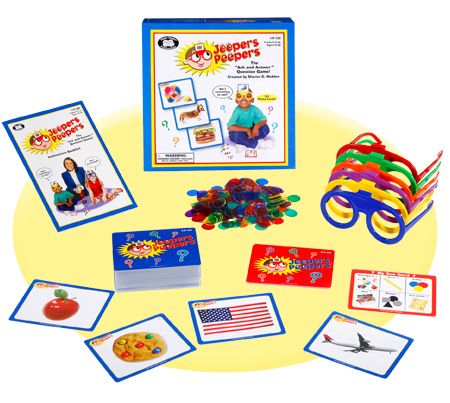 Designed for ages five and up, the idea of the game is simple: each player wears a pair of colored glasses and places a photo card in the slot above the glasses. By asking yes or no questions to the other players, try to figure out your card before anyone else.
The game is harder than you think. Even after you have determined the color or category of your item, there are still thousands of possibilities. Okay, not really thousands. But it may seem like that while you are playing.
WHAT DID MY PRODUCT TESTERS THINK?
I thought Jeepers Peepers was fun because everyone looked really silly with the glasses on and some of the guesses when you saw what they were wearing on their head made it really funny.
I liked it because it was funny.
I liked it because I like games where you guess things.
Jeepers Peepers retails for $29.95 on the Super Duper Publications website. As a reader of my blog, you are entitled to receive 30% off this game if you purchase it before August 31, 2012! Just enter the coupon code:

BLGJP30, and you can own Jeepers Peepers for only $21.00.
Many other members of The Schoolhouse Review Crew are reviewing products from Super Duper Publications. Click on the box below to check out their reviews.

Disclaimer: As a member of The Schoolhouse Review Crew, I received a free copy of the Jeepers Peepers Board game in exchange for an honest review on my blog. I received no other compensation.