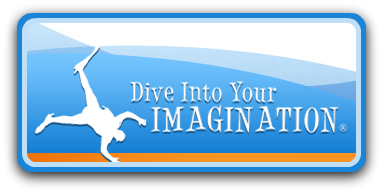 Annie Crawley, AKA Ocean Annie, explores a world filled with wonder in the
Dive Into Your Imagination
video series. These ocean-based DVDs offer an in-depth look into the ocean, all from the comfort of your living room.
So why start to study the ocean now? Because the health and welfare of our world's oceans are too delicate a subject to ignore any longer. These videos present issues that we need to address,
the future of our oceans and the creatures within them all depend on our actions now. Using her expertise as a diver, oceanographer and world traveler, Ocean Annie intends to educate and promote a love of our world's oceans.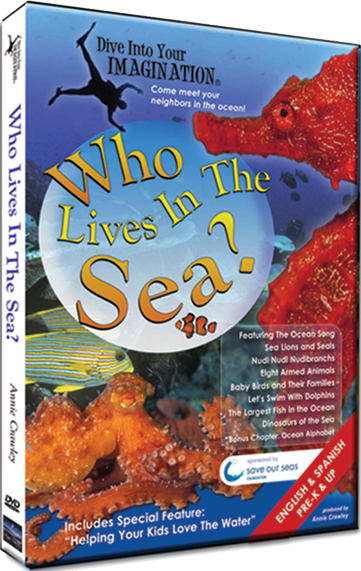 I was very excited to review
Who Lives In the Sea
. This DVD gives an intense and up close look at the marine animals living in the ocean. You'll learn what sound a sea lion makes, what makes dolphins swim so fast, as well as discover a wide-range of creatures that you never knew excited! It is available on the website for $19.95.
Although intended for children in Kindergarten to 3rd grade, my preschooler and fifth grader loved watching along with their siblings. In fact, I thought the footage was just amazing and it was all I could do to leave the television to tend to the baby.
Other TOS crew members reviewed the DVDs What Makes a Fish a Fish? and Dive into Diversity. You can find out more about these products on the website or by reading the review of my crew mates here.
In addition to the DVDs', Annie Crawley has just begun to offer amazing educator guides to further expand the information presented on the videos.
These guides are packed with information and activities that combine ocean literacy standards with science, math, literacy, social studies, art, and character education. In addition there is a special behavior component in which students use imagination play to become scuba divers, scientists, submarine pilots, explorers, and so much more.
Ocean Annie has generously offered an amazing deal to my readers:
"As a special for the Homeschool Crew and The Old Schoolhouse Magazine and followers Annie Crawley of Dive Into Your Imagination, she will gift you a set of PDFs with purchase of the DVDs. When you place your DVD order, just let her know in the notes that you are a Homeschool Parent!"
In order to obtain these amazing teacher guides, which number around 300 pages each, simply mention "homeschooler" in the comment section at check-out after you have added the DVDs. Don't put the guides into your cart, or charges could apply.
WHAT DID MY PRODUCT TESTERS THINK?
It was really neat to see all the different fish that live in the ocean.
I liked it because it was funny and there were fish with funny names in it.
I really liked it because there were so many different creatures. I didn't think I would like it but I did.
Mama, know what? That movie wasn't long enough and there wasn't many girls in it.
For the entire month of May and June, there will be free shipping with any order placed at
www.AnnieCrawley.com/store
. Now is the perfect time to let your ocean adventure begin!
Disclaimer: As a member of the
TOS Homeschool Review Group
, I received the above-named DVD and educator guides free of charge in exchange for an honest review on this blog. I received no other compensation.