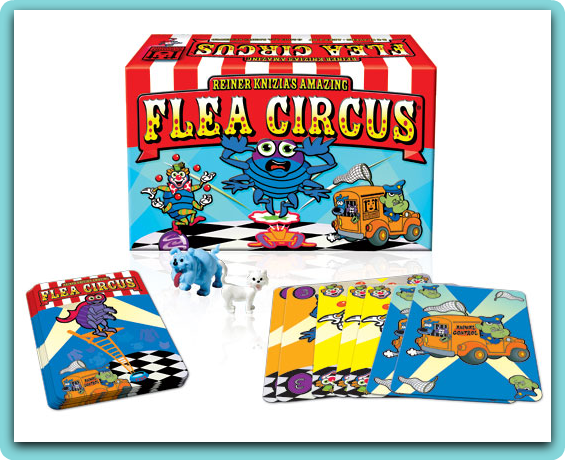 This game is designed for 2 to 6 players ages 6 and up. Players compete with colorful game cards to try and attract the most cats and dogs to their personal circus shows. Act fast because once the cards run out the circus shows are over! The player with the most points (cats are worth one, dogs are worth two) is the winner.
The boys got right down to business with the game. It includes a handout to explain what each card means and how it is played. It was essential to have this easily accessible because there are a lot of cards that have special uses.
Stacking your earned animals became an important part of the game
.
Thoughts from a nine-year old:
"I think this game needs more cat and dog pieces."
What did my pint-sized judges think of the game?
"I liked it the first couple times I played it."
"I liked it! I liked the cards, how each of them were a different point. I also liked the pictures on the cards, they were kind of funny and kind of weird."
"It was very fun because you weren't forced to put down certain cards and it was fun how instead of checking points or each thing being one point, dogs were two points and cats were one point. I also enjoyed playing with the dogs and cats."
The game is compact (making it an easy addition to your overcrowded game shelf) and the cards are well-made, sturdy, and colorful. I found the directions to be fairly straightforward; my only difficulty being that there are so many cards that do something besides earn the number of points shown. That got to be a bit confusing. Overall playing time was ten to fifteen minutes, and it is a smaller game, making it a perfect item to take into waiting rooms and restaurants. I would also like to point out that although the recommended age was six and up, Margaret enjoyed playing the game with her brothers and she is three and a half. A true family favorite game!
Flea Circus
can be purchased from the
R & R Games Website
for $15.95. Check out their website to see a wide selection of games including party games and games for your family game night! Use the coupon code CREW20 to get 20% off any purchase for the rest of the year. I think I see some new games under our Christmas Tree!
Disclaimer: As a member of the TOS Homeschool Review group, I received this product free of charge in exchange for an honest review on this blog. I received no other compensation.